Augmented human creativity through natural selection.
Portable Evolution!

Announcing our first mobile app:  MendelTone. For a dollar, you can now evolve virtual modular synth patches on the go. This new app is much more than just a miniature version of Trilobite. Our new mobile virtual synthesizer and evolution engine allow you to evolve new patch populations instantly, and hear the results in real time. The user interface features both patch breeding and live performance panels.
Please give us a review!
Trilobite 1.4

Version 1.4 is a maintenance version with a number of performance enhancements and embedded debugging features.  If you are a Trilobite 1.3 user, we highly recommend that you upgrade now.
Visit our Products page for purchase links and additional information.
Calymene 1.0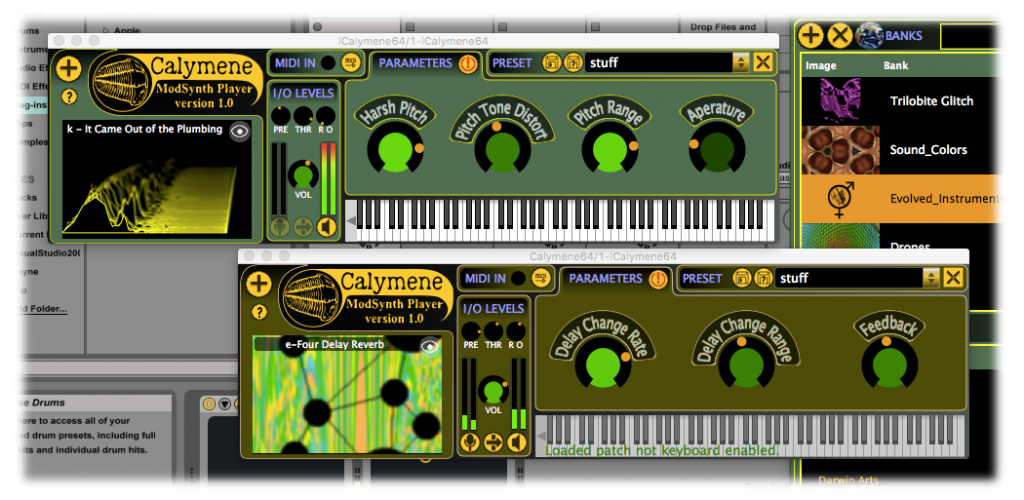 Introducing the Calymene Modular Synth Player!  This little suite of plugins (both an instrument and effect version) offers all of the synthesis and visualization features of Trilobite Pro in one small and simple package.  At a dirt cheap price, this is the perfect solution for sound designers and musicians who want to get started fast with multi-track projects.  Visit the products page for more information.
Sound Color Patch Bank
This bank is a collection of patches for Trilobite Pro versions featuring the Sound Color module. Patches were authored and/or evolved at Darwin Arts, with generous contributions from Doug Lynner and Later Days.
The following track uses just a few of the patches included:
The Sound Color Module is based largely on the work and advice of Professor Wayne Slawson (See his book, Sound Color), this module is a human vocal formant sound coloration filter with optional vocal tone generator. All of the patches in this bank will have vocal attributes in some form.
To download your free copy, visit our Media Downloads page.
Darwin Arts on YouTube – Tutorials
See embedded versions of Trilobite tutorials below, or check them out at the Darwin Arts Channel on YouTube.  These tutorials were created for Trilobite 0.9.3, but apply in all respects to Trilobite 1.2.